Lamborghini Books - Special Editions
DNA Lamborghini Platinum Edition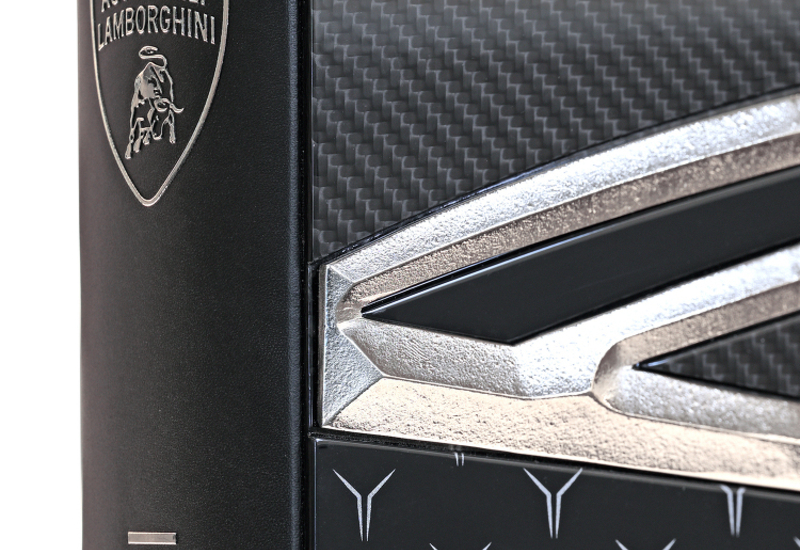 DNA Lamborghini Platinum Edition
---
21.500,00 €
D'ORO Collection and Automobili Lamborghini present DNA Lamborghini Platinum Edition, a limited edition of 60 copies created to celebrate the company's 60th anniversary.
Sixty years from its founding, Lamborghini continues to celebrate another important milestone. Through its visionary and daring approach, Lamborghini has always surprised the automotive world with constant evolution that has made it a pioneer while staying true to the brand's authenticity. So 2023 is an important year that both celebrates the past and illuminates what is to come, as expressed in the 60th anniversary motto "the future began in 1963".
D'ORO Collection has taken part in this anniversary by creating the special Platinum Edition in a limited number of volumes.
DNA Lamborghini Platinum Edition is a one-of-a-kind object, and for D'ORO Collection it is the first book to be made in platinum. Designed with meticulous attention to detail and exquisite design, the book is the centerpiece of a set that includes several exclusive items.
For more information or to reserve a copy by speaking directly to one of our experts:
Email: sales@dorocollection.com 
Phone and Whatsapp +39.349.74.12.852
DNA Lamborghini Platinum Edition is the official book of Automobili Lamborghini, written and curated by Antonio Ghini and illustrated by Mitja Borkert, head of design at Lamborghini since 2016.
DNA Lamborghini Platinum Edition is a true tribute, created exclusively in 60 copies worldwide, to the engineering and the cutting-edge design that have made Lamborghini synonymous with power, speed, and innovation. 
More than 380 pages for a journey through Lamborghini's history. From the birth of the iconic Miura to the revolutionary Countach, the captivating Aventador to the Huracán, every model is documented with stunning photography, technical specifications, and anecdotes. But DNA Lamborghini Platinum Edition goes beyond showcasing these colorful super sport cars. It delves into the brand's DNA, unraveling the secrets behind Lamborghini's success and its legacy from 1963 to the present day.
Crafted with uncompromising attention to detail, DNA Lamborghini Platinum Edition features match the luxury and exclusivity of the Lamborghini brand itself. The platinum edition boasts a specially designed, sleek hand painted highly-sophisticated carbon fiber cover with an elegant effect of alternating black tones to the iconic Lamborghini pattern. The covers are autoclave-forged and feature four bronze sculptures inspired by the typical features of Lamborghini super sports cars, gilded in a platinum bath. Platinum is one of the rarest and most precious metals in the world, and its lustre makes it the perfect choice to make DNA Lamborghini even more special and unique.
Each page is meticulously printed on handmade cotton paper and expertly hand-stitched by our master bookbinders, providing an immersive and refined reading experience.
DNA Lamborghini Platinum Edition is a centerpiece of a set including several exclusive items.
The set includes a hexagonal Book Jewel, an aluminum bookmark with a modern design that adds an extra touch of beauty and elegance when the book is open. A black leather pad with classic hexagonal quilting is designed to protect the book while the pages are being turned. And finally, there's the limited-edition rotating showcase with a black base, Automobili Lamborghini shield, and 60th Anniversary logo. All of this is enclosed in a logo stamped wooden box designed to provide safe storage and transportation, just like a work of art.
All pieces of the set are numbered and hand made in Italy.
Ordering one of the 60 copies of the DNA Lamborghini Platinum Edition you have the possibility to personalize it with your name or initials -on request-.
INFORMATION
Book
Title: DNA Lamborghini Platinum Edition
Printrun: 60 numbered copies
ISBN: 978-88-940676-9-9
Author: Antonio Ghini
Language: Italian and English
Translation: Translation into other languages available upon request
Production: Entirely handmade in Italy
Dimensions (cm): 42 x 34 x 8
Covers: Carbon fibre embellished with bronze and platinum sculptures
Lining: Black moirè
Paper: White artisan paper, 210 gram thick
Finishings: Black Leather with logos and title created using white gold leaves
Bookmarks: Three double face satin ribbons in the colours of the Italian flag
Packaging: Luxury handmade box
Accessories: White gloves and black pure cashmere cloth
Hexagon book-jewel
Limited Edition of 60 pieces
Material: Aluminum
Production: Entirely handmade in Italy
Dimensions (cm): 23 x 2.5 x 2.5
Finishings: Diamond-engraved logos
Packaging: Luxury handmade box and velvet pouch
Black leather pad 
Limited Edition of 60 pieces
Material: Quilted Leather
Production: Entirely handmade in Italy
Dimensions (cm): 78 x 48
Packaging: Velvet pouch
Rotating showcase 
Limited Edition of 60 pieces
Material: Crystal-effect Plexiglass
Production: Entirely handmade in Italy
Dimensions (cm): 47 x 40 x 13
Packaging: Velvet pouch
DNA Lamborghini is the only book in the world with carbon fiber covers forged in an autoclave and painted by hand, using the same process used for the Lamborghini super sports cars.
The shield and the bronze bas-reliefs inspired by the typical features of Lamborghini's super sports cars, are made with the lost wax technique and then gilded by immersion in a platinum bath.
To make DNA Lamborghini Platinum Edition, the Master Goldsmiths use a technique, which dates back to Roman times: it involves 4 different castings of white-hot bronze poured into 4 different moulds to obtain all the details, including the central shield. It is a complex operation that involves several steps and many days of work. Once the molded bronze has cooled, the resulting bas-relief is checked and chiseled to bring out even the smallest detail before being dipped in a pure platinum bath.
The pages of DNA Lamborghini Platinum Edition are made of handcrafted cotton paper, made of 100% high quality pure cotton cellulose. Each single sheet is obtained by laying out, shaping, pressing and drying the cellulose mixture. This operation is repeated more than 80 times for each book.
Cotton paper is white, thick and pleasantly rough to the touch. Thanks to its properties, the contents of DNA Lamborghini Platinum Edition, be they texts or photographs, shine with brilliance and character.
Each page of DNA Lamborghini is printed by means of platen presses using different plates, while the photographs are printed by means of modified rotary printing, slightly changing the composition of the cotton paper, to obtain unprecedented purity of the images.
Bookbinding is done entirely by hand. Bone folders are used before arranging the individual sheets on the wooden frames. Being faithful reproductions of the medieval instrumentation, they make it possible to keep the tradition alive still today and to make unique books entirely sewn by hand. Using a wooden frame, the craftsman begins stitching with needle and cotton thread. An operation that requires consistency, precision and patience and is repeated page after page until the completion of the book.
Once sewing is completed, DNA Lamborghini Platinum Edition is placed under a manual press for three days.
The result is an unparalleled book with jewel-like covers that combine hi-tech with goldsmith techniques, enclosing more than 380 pages printed and manually sewn one by one.