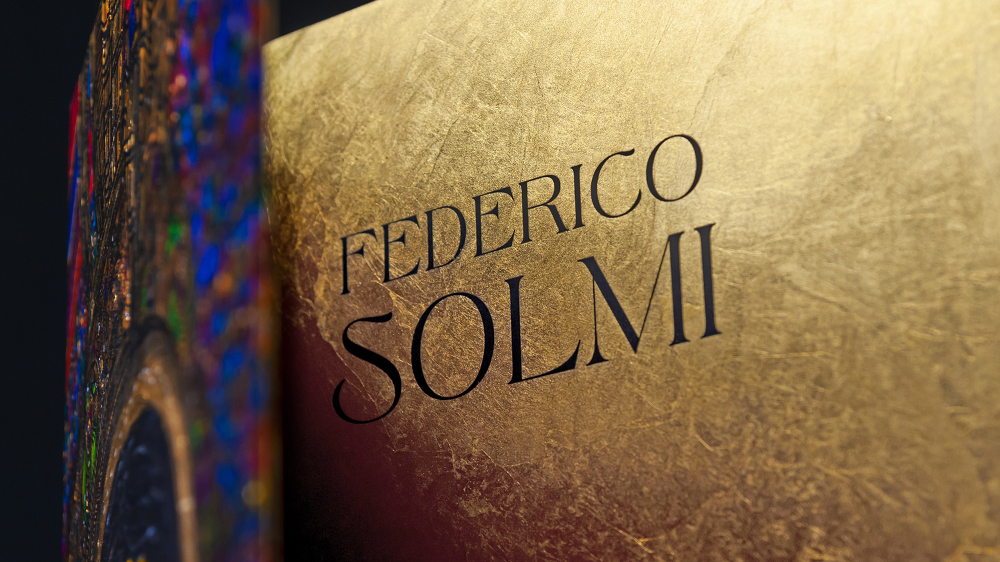 D'ORO Collection e la B3 Biennale di Francoforte sono orgogliosi di annunciare il lancio di "The Grand Voyage", il nuovo progetto D'ORO D'ART in collaborazione con Federico Solmi.
Questo innovativo progetto artistico, ideato da Salvatore Giorgio Dino, fondatore e CEO di D'ORO Collection, è destinato ad affascinare Francoforte -e non solo- grazie alla fusione di antica legatoria e videoart.
"The Grand Voyage" sarà presentato dal 18 al 22 ottobre durante la B3 Biennale of the Moving Image.
"The Grand Voyage" è un viaggio artistico unico nel suo genere che porta la realtà in un regno digitale. Federico Solmi, figura di spicco nella videoart, crea personaggi che vivono in una doppia dimensione: ritratti fisicamente con vivide pennellate e dentro a video digitali che mescolano umorismo e contemplazione. Questi personaggi navigano in un universo generato al computer, indossando costumi di epoche diverse in loop che durano un minuto e riflettono mitologia e cultura contemporanea. L'inaspettato porta gli spettatori in un viaggio in cui il tempo, le dimensioni e la geografia si perdono, per poi essere riscoperti sotto una nuova luce.
I personaggi sono tre: The Goddess, travestita da Cleopatra; The Wizard, vestito con un costume da nobile del XVI secolo e The Wanderer con le sembianze di un guerriero medievale ispirato a una pellicola dei primi del Novecento.
D'ORO D'ART è un progetto pionieristico curato da Barbara London, rinomata curatrice e scrittrice che, per molti anni, ha ricoperto il ruolo di curatore del Dipartimento di Media e Performance Art presso il Museum of Modern Art (MoMA) di New York; e da Valentino Catricalà, curatore e critico d'arte italiano attualmente in carica come curatore della SODA Gallery di Manchester e docente alla Manchester Metropolitan University. 
Ogni libro D'ORO D'ART è un capolavoro fisico che ospita un'opera di videoart che prende vita nel momento in cui si apre la copertina. Questa fusione innovativa, resa possibile da software e hardware all'avanguardia, offre agli artisti contemporanei una tela unica per superare i confini dell'espressione creativa.
Save the Date:
B3 Biennale of the Moving Image 
ASTOR Film Lounge + Frankfurter Buchmesse Hall 4.1 H19
18-22 October 2023